Riad Atika Guest House in Meknes:
---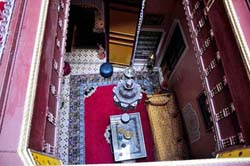 Riad Atika is a Riad in Meknes Located in the heart of the Medina (old town) away from the noise of modern life, built in the time of Sultan Hassan MARINI in the year 1333 and restored for your comfort without touching its historical values and Moroccan style.
Surrounded by the Great mosque, the madrasah Bouananya, the place El Hedime, Bab El Mansour, Kabet Souk the animated Market in the medina (old city) of Meknes. A day and night Parking 5min away walking from the riad (Lalla Aouda Parking).
---
View on the terrace of the Riad Atika in Meknes

A unique view on the terrace waiting for you, 30 KM panoramic view on Meknes and its surroundings. Ismailites Walls, its Medina and minarets, the mountain of Zerhoun and the Middle Atlas.
Why should you visit Meknes?
Visiting the city of Meknes historical monuments like the Great Place Lehdim, Museum Dar Jamai , Hri Souani. Do not forget to enjoy the typical charm of the souks as Kabet Souk, Marché couvert or Sebaghine Souk. And let yourself be charmed by the architecture of Meknes and of the old medina!
---
Guest House in Meknes or a Meknes Hotel
You want to book a Riad in Meknes for cheap holiday or a weekend? Select your room at Riad Meknes Atika for a dream holiday in Morocco. with up to 14 guest rooms and suites all well equipped for an absolute confort, relaxing at the Riad in Meknes is super friendly tastefully decorated, quiet, welcoming & very attentive.